Initiator and Organiser:   5th June 2014
Science on TV in Wales a joint RTS / Cardiff School of Journalism / Science Made Simple event.  See my blog post on the JOMEC website.
Television is the British public's main source of knowledge about science.  On network television, science is an established and popular part of the viewing menu, yet in Wales, apart from ecology and nature programmes, science is seldom commissioned for the small screen.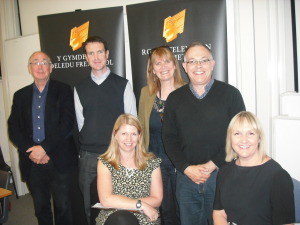 S4C ended a long dearth this year with science series, Dibendraw, so will English-language television follow suit? Does the scarcity of TV science in Wales affect public attitudes to the funding of research and to science education?  Does it confirm that the Welsh are not a nation of scientists?
The panel debated the role of science on Welsh television and the role of television in Welsh science.
The fifty people who attended were left in no doubt of the passionate commitment in all three areas of expertise: scientists, programme makers and tv commissioners – but also of the clearly expressed appreciation of, and need for, more opportunities for science and the media to understand each other better. Continue reading Science on Television in Wales →