On December 3rd the Cardiff Media Summit was held in the capital. This was an initiative of the Institute of Welsh Affairs, undertaken to promote collaborative reflection on the state of the broadcasting and media sector in Wales. It was jointly sponsored by BBC Wales and the University of South Wales. The latter had a stand near the entrance with books on display which had been written by university staff. I immediately found these titles of interest but, in fact, none were for sale on the spot yet what better buying public than scores of media professionals?
I ordered several books and received one a few days ago: Cultural Work and Higher Education by Catriona Noonan of USW and Daniel Ashton of Bath Spa University. The book, through its 11 contributions, examines 'the experiences and realities of working within a number of creative sectors and addresses how higher education can both enable students to pursue and critically examine work in the cultural industries.'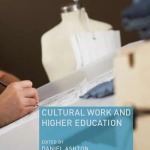 Catriona Noonan's contribution interviews first-year media undergraduates about their aspirations and concerns and sets itself three main questions:
How is creative labour understood by these young people, particularly in relation to the rewards and challenges which such work offers?
How do young people conceptualize their own professional identities with respect to current and future employment in the creative industries?
What are some of the factors influencing this conceptualization?
I find it very valuable to have this access to these young people's perceptions, particularly as they reflect on being in Wales. It is my industry that they are speaking about and their views on it help me to consider my own. What is being done to ensure that the industry is aware of these views? How is the industry responding to, and indeed reaching out to, these very young potential workers?
Last year I read a piece in Cardiff University's student paper which shocked me. It was a well-written account of work experience by an undergraduate on two tv series, one of which was about and made in Wales. He was treated appallingly badly but he regarded this as the norm, the norm he should expect if he managed to get into the industry as a post-grad. He seemed to regard the ability to endure 'inhuman' (his term) working conditions as the price that has to be paid for a creative career.
I immediately emailed and phoned various people on the editorial team to ask if I could write to refute this portrait of 'the norm'. No one answered any of my approaches. How tragic, that this is one young person's impression of the creative industries: exciting, ruthlessly macho, unendurable in the long term.
I have just finished a five-year stint as a professional tutor in documentary-making at Cardiff University School of Journalism, Media and Cultural Studies. I was teaching on an MA while working as a tv producer and as a writer. My concern with links between university and the industry led me to organise several initiatives to bridge those worlds. Much more could be done by academics to make sure that their own work, their own insights and critiques reach the workers within the industry. We need that material to understand our work and its effects more thoroughly.
Does the University of South Wales have a mechanism by which it feeds its academic work regularly and effectively into the industry in Wales – I mean at the level of ideas rather than via academic/industry partnerships such as Creative Exchange Wales-Network http://cewn.weebly.com/? Do Welsh universities in general work to get their studies read and debated by the industry? The difficulties faced by Cyfrwng recently are challenging but it is a challenge that the creative industries in Wales should help to face. I'd like to see it become the norm that creative workers expected to be asked to take an interest in the analysis of their work for their own sake, as something nurturing for them.
At the summit I was on a panel addressing the 'democratic deficit' in Wales and I made a point about young media workers – those already launched on a career, in their twenties and early thirties. How well are their views on the industry harnessed or canvassed by older workers? I wonder whether we are doing enough to foster the kind of commitment to policy formation which will support and regulate the industry. Are we fostering the kind of media worker who will care about the audience and the overall service as much as about the product? This is particularly important in a country such as Wales.
I noticed that there was little sense among Dr Noonan's interviewees of public service within the creative industries. That's how it is but why and are we happy about that?Whose responsibility is any of this? Certainly not that of one sector alone.
That's why the follow-up meeting to the Cardiff Media Summit is important: an opportunity to collaborate across the cultural work and higher education areas. 15th January. Details from the IWA.
Next blog: Daniel Ashton's chapter on: Industry Practitioners in Higher Education: Values, Identities and Cultural Work.