Ignorance prevents me having an opinion on The Latin American Short Story  but after hearing Juan Villoro (Mexico) and Andrés Neuman (Argentina) speak on that topic on May 31st I am keen to start forming one by reading their work and that of other writers they mentioned. What engaging, perceptive and generous speakers they were. In conversation with Cardiff University Director of Creative Writing, Richard Gwyn they shared professional insights in a strikingly fluent and relaxed way — and this not in their first language.
They spoke at the first session of When Fiction Met Football, a two-day event to coincide with the UEFA  Champions League Final in Cardiff. This was part of Fiction Fiesta, now in its sixth year, 'a celebration of international fiction and poetry in translation alongside Welsh writing' organised by Cardiff University's School of English, Communication and Philosophy (ENCAP). http://www.cardiff.ac.uk/news/view/759455-when-fiction-met-football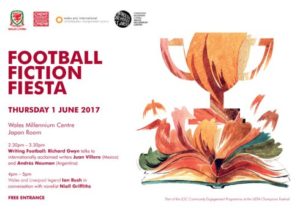 Richard Gwyn began by asking the writers if there is any unifying characteristic that links the great exponents of the short story in South America. Neuman suggested, and Villoro agreed,  that 'the link is the bookshelves' i.e. what writers have read. He said that in Argentina there has not been a strong tradition of the national novel. Pre-eminent has been the short story, partly because of Borges, and the fact that the greatest writers did their best work in that form so the short story is 'at the centre of the canon'. In Venezuela, he said, poetry is central, while in Mexico the novel has a more important central role.
I liked the remark, 'the roots of a writer are in the walls', meaning on the shelves.
Both writers agreed that South Americans share the influence of having had the same translations of English-language works and that South American work has an 'atmosphere of a certain threshold between reality and fantasy'. They said they keep on writing these threshold stories but also include the small details of daily life and that they don't want to refuse the fantasy but to understand reality in a fantastic way.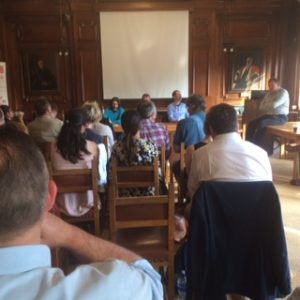 This led to a fascinating conversation about two layers of plot in the short story. There is action in the 'surface' plot but there is a second story at the same time and one must ask, why are you telling this second story? In South American writing the second story has become progressively more important over time, both writers claimed. After Borges, this 'hidden meaning' became more significant. Villoro spoke of 'the secret meaning of objects in the story; through these objects you can tell something that is not the evident story but something subtler — the second story.'
He talked of the way in which an object can be charged with special meaning and act as a clue to the inner challenges of characters. 'We are giving the real meaning to the small objects' within a story.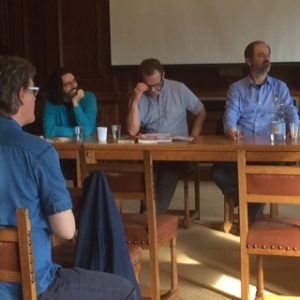 Neuman spoke about the autobiographical perspective within fiction. Giving a personal example he concluded that fiction has an advantage  over factual writing in that in the latter 'you will try to justify yourself, hide your weaknesses…  whereas if you're trying to address the issue as fiction you feel free'.
'You can invent new characters, improve reality, manipulate action into a different direction. You can include what might have happened, invent an alternative memory.' He asserted that personal experience is not made up only of facts but includes the might- have-happened or what-was-desired-to-happen-but-didn't. 'Pure autobiography eliminates dreams,' he said. What he wants are the facts but also what happened around the facts. 'I enjoy being me and someone else.'
What is important is 'not factual accuracy but symmetry'.
I found these remarks reassuring because they match my experience of short story writing. I have learned that writing which is stimulated by personal experience should not be forced into being an account of that experience. The writing has to be free of the actual facts if it is to become something which is artistically true. The unmediated facts can suffocate the reader's understanding. I'm thinking of experiences which have been long mulled-over and have distilled in one's mind into something more than the this-then-this of reportage. Writers select out what does not help convey meaning. I agree with Neuman's account of experience as being more than what actually happened.
This means that the choice of form is very important. Does one opt for the short story or memoir or autobiography? Each brings its own set of advantages.
I have not done justice to the brilliance and playfulness of the exchanges amongst these writers.
After an extensive discussion of the role of an iguana in a story by Villoro (one of those 'small objects' which accumulates meaning, I suspect) he described the experience of driving past iguana sellers. They stand patiently, holding up a bunch of iguanas — not the most likely of purchases. Despite seeing these people frequently, he has never actually spotted anyone stopping and buying an iguana but he supposes it must happen at some point.
Writers, he said, resemble those iguana vendors. They hold up their bunch of stories, hopefully, and — eventually — someone stops and takes one home.
I had not previously known about Fiction Fiesta but I will look out for it next year. If this session is typical there are treats in store for attending local writers and readers.