Berlin's Gemaldegalerie houses a fantastic collection of medieval art. After four visits I have only got as far as 1560!
One of many highlights: an Adoration of the Kings by an unknown artist from the Netherlands from about 1520.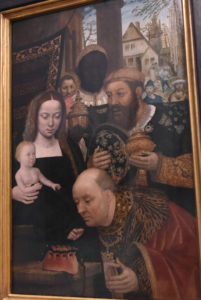 The expression on the face of the bearded king is that of a mature man face to face with the embodiment of goodness. He sees that he has been right to devote his time and resources to pursuing it; that such delicacy and vulnerability are worth his homage and he is lost in a moment of intensely personal reaction, gazing at the child who has not yet looked at him. What he has dared to hope for is there in front of him, an ideal made real.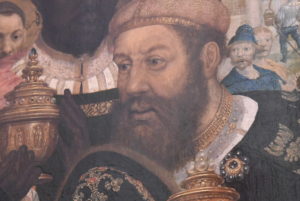 Over his left shoulder, gawping passers-by remind us that not everyone looking on will perceive so deeply and it may be that their attention is taken by the black servant of the black king, Caspar. Another man has his back turned, intent on some mundane detail.
The current exhibition bringing  the two panels of the  Melun Diptych together is also  wonderful. Side by side they are a powerful combination of, on the left, intensely realistic portraiture of the donor and Saint Stephen and, on the right, the Queen of Heaven and the Christ Child surrounded by red and blue angels which are depicted with an otherworldly panache, the 'whites' of their eyes are red or blue – where did Jean Fouquet get that idea? – but then one realises that the earthly and divine are alike handled as aspects of the one reality. Why not have the saint looking as real as the man who paid for the work? It's only a matter of time and eternity, all one flux in the end. Even more striking when  displayed in the street.