It's good to share good things and there are very good things to share from this year's Writers' Symposium (14th January) curated by Jan Carson, presented by Eastside Arts Centre and sponsored by the Arts Council of Northern Ireland.
'Prophets, Makers and Risk-takers: A Showcase of Writing from Northern Ireland', this one-day event was an exemplary resource for writers. I will highlight just three sessions.
The Keynote Address was '"This Must Be the Place": Mapping Contemporary Women's Writing from Northern Ireland'  by Dr. Dawn Miranda Sherratt-Bado (Queen's University Belfast, Institute of Irish Studies).
Watch it here
This talk exemplified for me a striking feature of the whole day – the advancement of a sense of community for writers in Northern Ireland. The sessions worked against isolation or exceptionalism, fostering a spirit of solidarity in the facing of challenges or success.
Dr Sheratt-Bado's talk provides a context for writing by women in Northern Ireland, or rather, something much more personal and powerful than that, a sense of family. Here are sisters who have walked the road that we are on.  Famliar or new faces and voices. Wonderful!
I bet many of us wondered who we might add to the list. I thought of Marjory Alyn ('The Sound of Anthems', St Martin's Press, 1983; Hodder & Stoughton, 1984) a trenchant novel inspired by the White City estate in North Belfast; a great read alongside 'Hearthlands' by Marianne Elliott (Blackstaff Press, 2017).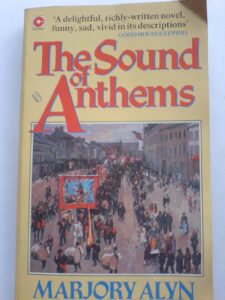 and, with a little category bending, Welsh novelist, Menna Gallie whose 'You're Welcome To Ulster '  (Gollancz , 1970) is, arguably, the first 'Troubles Novel'.
Jan Carson's session of practical advice for writers could hardly have been bettered. She covered a wide range of topics with a robust practicality and surely no one who heard her would be left in any doubt that promotion of one's work is part of a writer's toolkit, if it is done with confident humility, sincerity and a collaborative attitude that thanks people for help and helps in turn.
There can also be no doubt about how hard she works at this aspect of the craft. It inspired me to do a review of my own promotional efforts. I decided to identify one thing that I was aware needed attention. I applied the kind of constructive, problem-solving, let's-do-this-together analysis that I picked up on in Jan Carson's approach. I worked out what I could do. I discussed my idea with my publishers and,  a couple of weeks on, we've made really good progress on the issue.
I also particularly enjoyed the panel discussion on CONTEMPORARY ISSUES IN
NORTHERN IRISH WRITING chaired by Emma Warnock of No Alibis Press  with Nandi Jola and Mícheál McCann.
From this session I took away an appreciation of how the obstacles writers face are very much experiences that are common to most writers, rather than being failings experiened by unworthy ones. We can all be confident that it is likely that any problem we might have has  been faced, and overcome, by some other writer. Again, that sense of community came through.
See the event Programme here
and the Video Showcase of Writers:
Jan Carson has reflected on the event in a blog: here
Thank you to everyone concerned for a great event.
I'm from East Belfast: hubba tha yooniverse
My collection of 26 short stories A City Burning (Seren Books) set in Northern Ireland, Wales and Italy was published in October 2020.