I'm thrilled that my debut short story collection A City Burning has been longlisted for the prestigious Edge Hill Short Story Prize 2021. Now in its 15th year, the Prize  is the only national literary award to recognise excellence in a published, single-authored short story collection.
It's great to be among this list of writers: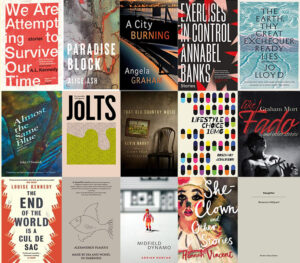 Alice Ash Paradise Block (Profile/Serpent's Tail)
Annabel Banks Exercises in Control (Influx)
Kevin Barry That Old Country Music (Canongate)
Adrian Duncan Midfield Dynamo (Lilliput Press)
Angela Graham A City Burning (Seren)
Rosanna Hildyard Slaughter (Broken Sleep Books)
Rosemary Jenkinson Lifestyle Choice 10MG (Doire Press)
A L Kennedy We are Attempting to Survive our Time (Jonathan Cape)
Louise Kennedy The End of the World is a Cul-de-Sac (Bloomsbury)
Jo Lloyd The Earth, that Great Exchequer, Ready Lies (Swift Press)
Graham Mort Like Fado (Salt)
John O'Donnell Almost the Same Blue and other stories (Doire Press)
Alexandros Plasatis Made by Sea and Wood in Darkness (Spuyten Duyvil)
Fernando Sdrigotti Jolts (Influx)
Hannah Vincent She-Clown (Myriad Editions)
Previous winners include Colm Tóibín, Tessa Hadley and Daisy Johnson.
The shortlist will be announced in September.