Black Bough Poetry/Barddoniaeth Y Gangen Ddu has produced its second Christmas and Winter-themed anthology and it would be an ideal Christmas gift. Over sixty short poems by poets from around the world are beautifully enhanced by linocuts from Gower-based artist Emma Bissonnet .
Black Bough specialises in imagist micro poems: short, and sharp or sweet, with the emphasis on the visual. These poems take the reader on a tour of the feast and the  season. Perfect for dipping into.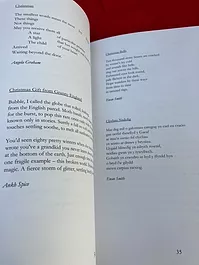 Available here
Edited by Matthew C. Smith and colleagues, Damien B. Donnelly and M.S.Evans.
I'm delighted to have this poem included.
CHRISTMAS
The smallest words mean the most
Joy
Hope
Love
These things
Not things
May you receive them all
A star              of particular promise
A light             that has sought and found you
The child         of your heart
Arrived
Waiting beyond the door.