Matthew M.C. Smith is an adventurous, and apparently indefatigable, poet and poetry impresario. It may be his gift for collaboration which enables him to be so productive.
It's so lovely to see my poem 'Thaw' here:  Deep Time Volume 2
This beautiful-to-handle, easy-on-the-eye, large-format book from Black Bough Poetry has been produced by a team and assembling a coherent team is a skill in itself. The members are:
" Welsh writer, Laura Wainwright, Louisiana's former Laureate, Jack Bedell, and Aotearoa's, Ankh Spice. The amazing illustrations are by Rebecca Wainwright, a Newport-born artist from Newport in Wales, now living in London. Music for this project is composed and curated by Brisbane-based Stuart Rawlinson."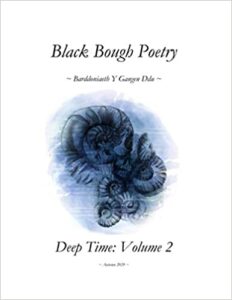 Deep Time volume 2, is Black Bough poetry's second print anthology. It is dedicated to the writer Robert Macfarlane, who wrote award-winning non-fiction work, Underland (2019).