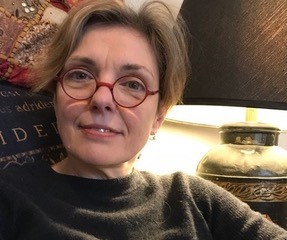 I am writing a collection of poetry on the theme of sanctuary.
But I'm not doing it  alone. I've sought four other poets to contribute a poem each, written in collaboration with me, though originating with them. This approach is prompted by the notion of opening up a space, hosting, welcoming and also from my desire to open myself up, to learn.
I'm delighted to welcome Csilla Toldy to this collaborative venture.
Two of the Sanctuary poets are from Wales and two from Northern Ireland. Because I live in both places. All have experience of migration or a particular interest in sanctuaries.
Given the sanctuary theme, I have sought a poet in Northern Ireland and one in Wales, who has experience of having been a refugee.
Csilla Toldy is a Hungarian, now living in Northern Ireland. She escaped Communist Hungary in 1981, looking for freedom in the West. She is a European who has experienced being a refugee within Europe. As a film maker and writer she has explored themes of arrival and departure, severance and belonging and I am very pleased that she is bringing her long experience of Sanctuary to this proposed book.
Csilla was born  in Budapest.  She lived in many European countries. She moved to the British Isles with a writer's visa to work on films in 1995. Her writing was supported by British Screen, Media and Northern Ireland Screen, and the Arts Council of Northern Ireland, National Lottery.
She received a Masters Degree in Creative Writing for Film and Television from Sheffield University in 2003. She participated in workshops lead by: Sundance, Arista, The National Film and Television School.
With her scripts she won the Katapult Prize and The Special Prize of the Motion Pictures Association as the Hungarian winner of the Hartley-Merrill Prize. In 2019 she was quarterfinalist at the Big Break Competition of Final Draft. Her film 'Belfast Exposed' recently won Best Street Art Film at the Berlin Underground Film Festival. She wrote 'The Emigrant Woman's Handbook with Fil Campbell.
Csilla says,
"I am delighted to be asked to contribute to this project for it will give me the chance to revisit and reevaluate my experience of 'sanctuary' looking back from a long perspective, and find new meanings.  " Continue reading Csilla Toldy joins Sanctuary poetry project →