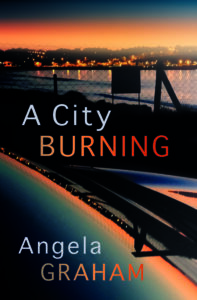 My new collection of 26 short stories set in Northern Ireland, Wales and Italy. Out 28 Oct. from Seren Books. A Writer's Bursary from Literature Wales supported the development of this book.
'Angela Graham is a brilliant new voice. This is literature that deserves to last.' Kate Hamer 'honest, searing, insightful and very, very good' Inez Lynn                                                                'The stories entice and intrigue… highly recommended' Graham Reid                                                'In this powerful collection, Angela Graham shows herself master of the angle of vision: her tales capture the mercurial moment when a person's world is changed forever' Stevie Davies 'An impressive kaleidoscope of landscape and language' Angeline King                                          'Angela Graham's assured and compelling debut collection… These stories show us what the genre does best: the 'snapshot' of a moment which reveals a life or a culture in a moment of transition or realisation, what James Joyce called an 'epiphany'. Prof Diana Wallace
Formerly a producer in documentary  and drama, a feature film screen writer and university tutor in documentary practice, I now write full time. I am also a trainer for trade unions in the Creative Sector.
2017 SIAP Award from the Arts Council of Northern Ireland to support research for my novel Thorn about land & language.
2019 SIAP Award in support of the book I am currently finishing – prose and poetry about the east Belfast house and community in which I grew up: Place and Displacement.
2020 SIAP Award towards a collection of poetry on the theme of Sanctuary.
Click for my work in 2018/2019 Click here for my CV pre-2018.
Follow @AngelaGraham8   Email AngelaGraham2003@aol.com