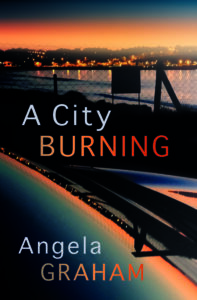 My collection of 26 short stories set in Northern Ireland, Wales and Italy was published in by Seren Books.
PRAISE for A City Burning here
I have received 3 SIAP Awards from the Arts Council of Northern Ireland for work in progress:                                                                                                                                                               2019  – my book of prose and poetry about the east Belfast house and community in which I grew up: Place and Displacement.
2017 – my novel Thorn about land & language in Northern Ireland.
2020/21  – a collection of poetry on the theme of Sanctuary – see below
My poetry is widely published. My debut collection is under consideration with a major poetry publisher.
Click for my work in 2018/2019 Click here for my CV pre-2018.
Follow @AngelaGraham8   Email AngelaGraham2003@aol.com