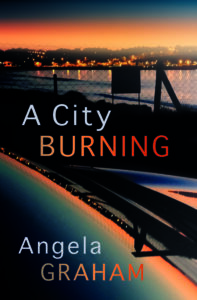 My new collection of 26 short stories set in Northern Ireland, Wales and Italy was published in October by Seren Books.
'Angela Graham is a brilliant new voice. This is literature that deserves to last.' Kate Hamer 'honest, searing, insightful and very, very good' Inez Lynn                                                                'The stories entice and intrigue… highly recommended' Graham Reid                                                'In this powerful collection, Angela Graham shows herself master of the angle of vision: her tales capture the mercurial moment when a person's world is changed forever' Stevie Davies  'An impressive kaleidoscope of landscape and language' Angeline King                          'Angela Graham's assured and compelling debut collection… These stories show us what the genre does best: the 'snapshot' of a moment which reveals a life or a culture in a moment of transition or realisation, what James Joyce called an 'epiphany'. Prof Diana Wallace  'What fires the attention is Graham's mastery of language and her ear for local speech of both the poetic and prosaic kind. H  er experimentation with Ulster Scots in particular points to a new talent in Irish writing…' Dr Frank Ferguson
A Book of the Year 2020 on Nation Cymru "Angela Graham's debut collection A City Burning announced a confident, stylish new voice in short fiction." Jon Gower and The Lonely Crowd  (twice) 'This is an exemplary collection illustrating the creative possibilities of the short fiction form' Jane Fraser  and Kate Hamer 'Graham's language has a searing quality yet also a humour about it that is genuinely hard to forget long after reading. Very highly recommended – I can't wait to see what she does next.'
A Writer's Bursary from Literature Wales supported the development of A City Burning.
2017 SIAP Award from the Arts Council of Northern Ireland supported research for my novel Thorn about land & language.
2019 SIAP Award supported research for my book of prose and poetry about the east Belfast house and community in which I grew up: Place and Displacement.
2020 SIAP Award is supporting a collection of poetry on the theme of Sanctuary.
Click for my work in 2018/2019 Click here for my CV pre-2018.
Follow @AngelaGraham8   Email AngelaGraham2003@aol.com