My review of Damian Smyth's latest poetry collection appears in The Cardiff Review.
Some additional comments:
There are many touches of wry humour, my favourite being the perceptive 5-line poem, Dipper which treats of a sheep in terms of the Egyptian royalty and a figurine from Ur / Gold leaf and lapis lit from within; those ankles, slim, elegant, worshipped.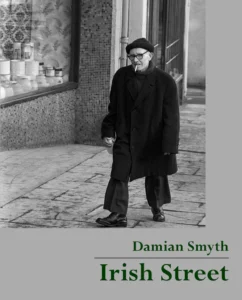 The collection's second poem, Downpatrick sets the tenor of the book by its depiction, as though in a miniature, of the single thing that might save its soul / When pestilence falls, rescue each mean inhabitant from ruin in every century / To come … and that is the kindness of the inhabitants towards the son of a pharmacist who tended to those who had nothing, for nothing. He has been merciful to them; they reciprocate by being gentle and generous towards his vulnerable son. Smyth makes clear that this reciprocity is in the reach of any town and, by implication, any of us.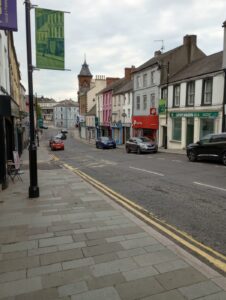 Below, the junction described in 'St Brigid's Day'
Because you could drop a rushy cross on the towncentre
And it would fit its articulate legs up each of the four streets,
Like its hips are broken, it's clear that all the tales are true,
Especially the most unlikely.
Irish, English and Scotch Streets meet in exactly this way, as anyone who has ever seen them, or seen a St Brigid's Cross, will agree.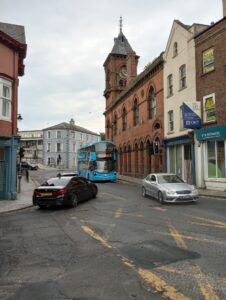 There are many excellent images to savour. Of whins: They switch their floodlights on from dawn … and the canopy of those gnarly and small woods; or a path which drowns face down in a foot of river … and the black baby… / (Her fists like tulips, the soles of her feet already ruched as maps) …
Available from Irish Street – templarpoetry in paperback 12.00 or hardback 14.99.