I am honoured and delighted to have my poem on the Irish Civil War among the 20 poems related to the Decade of Centenaries 1912 – 1922 that are featured in the Poetry As Commemoration Poetry Juke Boxes in Derry and Limerick from May to July this year.
The Irish Civil War, County Tipperary, Summer, 1922 describes an incident in which my mother, then a seven-year-old, was caught up. Her memories of violence influenced my experience of The Troubles.
New Poetry Jukebox Commemorates Complex Shared History in Derry~Londonderry
I've written about this in an earlier blog (below) which contains a link to the poem on the Virtual Poetry Wall of Poetry As Commemoration.
On 23rd August I took part in a reading at Derry's Verbal Arts Centre, featuring Stephen Sexton (one of the ten poets commissioned by the project) along with Carole Farnan,  Maria McManus, Julie Morrissy,  and Dominic J. Sweeney.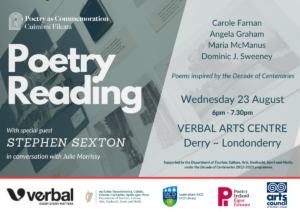 You can listen to the poems featured in this curation here.
'Ossuary' by Seán Hewitt
'Poppies In A Field Of Shamrocks' by Nithy Kasa
'The Belfast Pogrom: Some Observations' by Paul Muldoon
'Hogan, Grianghrafadóir' by Aifric Mac Aodha & transl. by David Wheatley
'Blood pulled my Shoe Off: The Birth of the Freestate in the Words of Máire Comerford' by Martina Evans
'Wound' by Chiamaka Enyi Amadi
'The Head of a Man' by Stephen Sexton
'Special Topics in Commemoration Studies: The Kerry Archives' by Victoria Kennefick
'The Lookout' by Bebe Ashley
'This Video Has No Sound' by Padraig Regan
'Faithful Comrade and Life Long Friend' by Julie Morrissy
'Telescope' by Eoghan Totten
'Without Fuss or Splutter' by Ann-Marie Foster
'Uncle Maurice' by Ian Duhig
'The Irish Civil War, Co. Tipperary, Summer 1922' by Angela Graham
'Bloody Sunday, 21st of November 1920, Croke Park' by David McLoghlin
'Cogadh na gCarad ó Bhéal mo mháthar' by Mike MacDomhnaill
'Eliza' by Karl O'Hanlon
'Yew' by Karen J. McDonnell
'Kingdom' by Brian Kirk