I am so impressed with everything about Bargoed Library. I've just been there as Libraries Wales' Author of the Month for December to read from my poetry collection Sanctuary: There Must Be Somewhere and my short story collection https://bit.ly/3iHHw9u  A City Burning.
The library itself is in a bold re-fashioning of Hanbury Chapel in the heart of the town. This beautiful building, dating from 1906, now contains a scaled-down chapel, where the reading took place, and a full range of modern library facilities.  Historical Details on CADW coflein site. Fascinating.
The staff could not have done more to make it a pleasant experience for me. I could see beforehand that they were making great outreach efforts. They printed out 3 of my Christmas poems as cards that attendees could take away after the reading.  They had library copies of my books on display and I was able to offer copies for sale.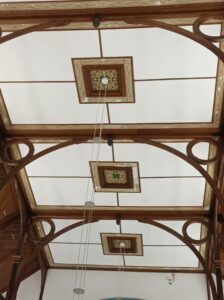 The reading took place in the small version of the chapel which has been constructed within the interior as part of the change of use project. In miniature, it is a Baptist chapel. The  pulpit, the sedd fawr (Big Seat) where the deacons sit, and the pews and some of the stained glass from the original Hanbury Chapel are used by the present congregation for worship. It also hosts readings such as mine, complete with technology. On a bitterly cold day, it was truly a Warm Place.
The librarians gave me a tour of the building and later sent a copy of the history of the chapel, a fascinating and detailed account of the impetus to build for an English-language congregation from 1896 onwards. It provides a snapshot of the area at the beginnings of the coal industry when it was still rural. A cluster of cottages surrounded a mill that had stood for 500 years near the juncton of the Aber Bargoed and Deri roads.
"With the first sod cut for the building of Bargoed Colliery by the Powell Dyffryn Colliery company in 1897, this hamlet (Charlestown) became alive and an influx of people from far and wide converged… English Immigrants increased…" and what had been an  entirely Welsh-speaking area began to change.
Striking that the colliery started so late in the century. Powell Dyffryn remained, for generations, a name redolent of industrial might.
On the 31st November 1896 a core group pledged themselves to the construction of a suitable chapel. Later the Hanbury Estate of Pontypool leased the site. The famour Revival of 1904 and the subsequent high number of religious conversions increased the pressure for accommodation.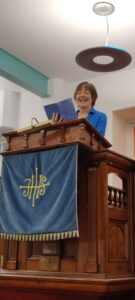 A wooden building was first erected in 1905 beside the site, holding 600 people and costing £600. On 30th August 1906, Hanbury Chapel, seating 1000 persons, was at last opened. It cost about £3000 (in 1906 prices).
I felt it a privilege to read in such a place. And, earlier this week, I was reminded of what a privilege it is to have a Library Service. A friend was telling me how impressed he is at the way that Cardiff Central Library can get him any books he asks for. I was surprised at his surprise. Did he not know this is what libraries aim to do? No, but he's very pleased that he knows now!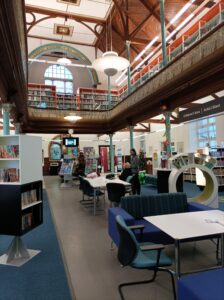 At Bargoed Library, Damon Christopher, senior library assistant, embodied the positive contribution of libraries. He has used the library since he was a small child and he described how its contents had educated and nourished him throughout his youth, helping him to stay rooted in his native town. Inspiring.