In 2 poems by Gaynor Kane we find the glowingness of whin in these contrasting views of the same countryside.
Gaynor is from East Belfast. She came to writing late, after finishing a (mid life crisis) degree with a creative writing module. In October 2018, her micro pamphlet, Circling the Sun, was published by Hedgehog Poetry Press. Tradition appears in her poetry pamphlet, Memory Forest, on last wishes and burial rites.
Tradition
A whitewashed cottage holds the family tight,
Him – all boxed in oak and brass,
and the priest – who'd visited often that final week.
Everyone else spills out across the yard, 
against paddock fences, down the lane 
where daffodils bud, their heads bowed.
Burnished whin bushes catch the low sun.
Oil slicks ripple on pothole puddles. 
Three hee-haws, long and low, cut silence.
Whinnied responses stuttered from four in hand, 
drafts as dark as Guinness, their plumed 
headgear like black clouds dancing.
Plaited tails, the smell of leather and Brasso, 
oiled hooves shine, the clop of shoes shifting weight.
They breathe in sombre air, exhale acceptance.
Glass carriage, reflecting dark 
pallbearers in top hats and tails 
fit with Dickensian demeanour, gloved hands.
The procession takes the obedient pace
of cows to milking, along the long lane.
Every man takes a lift, order called by respectful nods.
Rural men, mostly farmers with dirty fingernails,
performing the graceful choreography 
of a symbiotic ceremony. Cars convene 
Ardkeen to Ballyphilip, to an ancient graveyard 
on Windmill Hill, overlooking the mouth 
of Strangford Lough, where he is laid to rest.
Gaynor says:

The Low Country is the name for the lower Ards area of the Ards peninsula – from Greyabbey to Portaferry. We moved from Belfast to Kircubbin to get away from sectarianism.
Cross Roads
When I left school, I crossed a bridge
to work. I was thrown into a world filled
with names I struggled to pronounce.
There I met a boy, from the other side of town.
Friends at first – we talked about our weekends,
shared stories, laughed at youthful antics.
Then I moved, back across the bridge, back
onto familiar roads. We stayed in touch.
Later, we had our own home, mid-terrace,
on a road with coloured kerbs, it didn't matter
which. Inside was neutral, magnolia walls, beige
carpets and a coffee coloured bathroom suite
City folk, we lived in fear of angry balaclavas;
crossfire cutting communities in two.
Sirens resonated across the Belfast sky.
We took to the roads looking for a haven.
In The Low Country, whin bushes shone under
a hay-bale sun, the lough glimmered. Harbour
boats waltzed on golden strands of summer.
Red and black flags adorned main street houses.
A loyal arch, arced across that same road;
we exchanged knowing glances, we wouldn't
be taking chances. Surveyed the site
and soon after foundations were footed
Years later we migrated; held hands, gold bands,
under a calypso sun and returned as swans.
Added to our brood, just once;
let her choose
which cross to wear,
if any
Cross Roads will appear in Gaynor's debut poetry collection Venus in pink marble, soon to be released by Hedgehog Poetry Press. Website: www.gaynorkane.com
In Yvonne Boyle's thought-provoking poem, whin serves as an emblem of both love and conflict. It appeared in the Easter 2018 edition,'Spring's Bride' of The Bangor Literary Journal .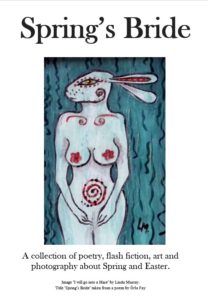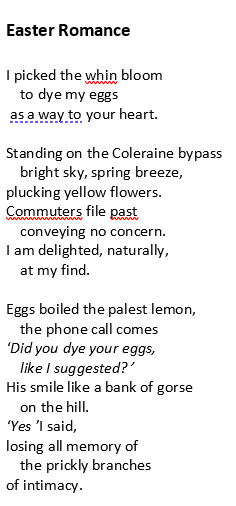 Yvonne says, The whin or gorse blooms in spring and it's also: 'when a young man's fancy turns to thoughts of love..' (Alfred Tennyson). I had been talking with my partner about Easter and eggs. I remember my mother dying eggs with gorse blooms in my childhood but I had never thought to do it myself again until he suggested it. And I kinda liked that he knew about 'old customs….'
Yvonne has had poems published in The Dunfanaghy Writers' Circle publications, The Bangor Literary Journal and The Community Arts Partnership's Poetry in Motion Anthologies (2017, 2018). She is a NI Arts Council (SIAP) Awardee 2018/9 and a member of Women Aloud NI.