I'm delighted to be contributing alongside some great poets and swimming enthusiasts, Polly Atkin, Katrina Naomi and Elizabeth-Jane Burnett in this session celebrating swimming and writing. I don't think both can be done at once but I'm open to persuasion!
I enjoy writing about the sea and especially about being in it. It is an intensely physical experience and I often think of it in terms of an encounter with power.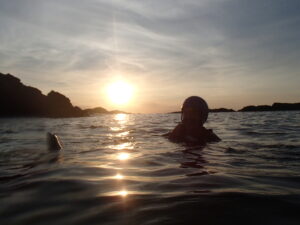 Here's the opening of a poem I wrote about looking back on memorable moments in a year as it ends: (pubished in The Bangor Literary Journal)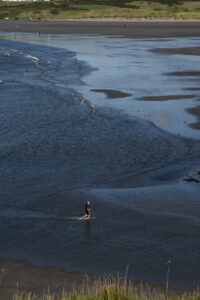 AS THE YEAR BEGINS
for Gill and Alan
I would like my grave to be
marked not by a stone but glass:
a sturdy panel, windowing my life
in a mosaic of seeing / seeing-through.
Here, in a piece of most particular − almost royal – blue,
won't you remember
how, from a height,
we watched the unhurried, strategizing sea
re-take the estuary plain,
spreading in ever-widening fans
a rippled, supple mirror for the cloudless sky
and how we plunged
to stride out to its quick
where water, headlands, seal-black cliffs
and sunlight sang on one note?
We knew our luck, that day….