I'm looking forward to taking part in this event, 7pm Tuesday 29th June with three great writers from north and south of the island. Seren Books, the leading literary publishing house in Wales,  has many Irish writers on its list and is kicking off its  40th anniversary celebrations with an Irish focus.
Seren Publisher, Mick Felton says,
The line up for this event is a clear reason why we like to publish authors from Ireland.
"We've long published Irish writing and books about it (first critical books on Heaney and Muldoon, editor Neil Corcoran's The Chosen Ground (1992)). I don't want to get dewy eyed about the Celtic fringe, but there are clear parallels between writing in Ireland and writing in Wales – two languages, a strong sense of writing in English but being very different to writing from England, so it seems only natural that when an opportunity arises to publish an outstanding writer from either side of the border in Ireland, we should take it and celebrate our joint difference."
I'll be reading from my short story collection A City Burning. One of its stories includes Ulster-Scots dialogue. Seren's roots in a bilingual country make it, in my view, particularly open to work in more than one language. I've worked in Wales for nearly 40 years and now live between Cardiff and north Antrim where my father's family are from.
Seren's poetry editor, Amy Wack, started her career with Seren in 1989 where she was the reviews editor for Poetry Wales, before becoming Seren's commissioning poetry editor.  She has a eye for emerging talent and Seren's poetry publications  are frequent and successful, featuring regularly on all the major prize lists. Among the latest is work by Dai George, Ilse Pedler and an anthology edited by Zoe Brigley and Kristian Evans: Seren Poetry.
Seren says of its 40th anniversary, "we're hosting a new series of online events celebrating our authors and backlist. For this first event, we welcome four award-winning writers, from our strong and growing list of Irish authors, for an evening of poetry and fiction.
"Siobhán Campbell was born in Dublin. She spent a number of years in New York and San Francisco and worked as Managing Editor of Wolfhound Press before joining Faculty at Kingston University in London. Widely published in the USA and UK, she has won awards in the National, Troubadour and Wigtown International competitions. She has published six collections of poetry, most recently Heat Signature (Seren, 2017).
"Jaki McCarrick lives in Dundalk and studied at Trinity College, Dublin. She is an award-winning playwright and short story writer and also writes poetry and novels. Her play Belfast Girls has been performed around the world and was shortlisted for the Susan Smith Blackburn Award and BBC Tony Doyle Award. Her collection of short stories The Scattering (Seren, 2014) was shortlisted for Edge Hill Prize.
"Eoghan Walls was born in Derry in Northern Ireland. He studied in Wales, Dublin and Belfast, where he completed a PhD in Phenomenological Poetics in the Seamus Heaney Centre. His first collection of poems, The Salt Harvest (Seren, 2011), was shortlisted for the Strong Award for Best First Collection. His second collection Pigeon Songs (Seren, 2019) was shortlisted for the Pigott Poetry Prize.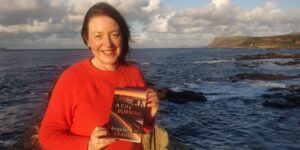 "Angela Graham is a Welsh-speaker from Belfast. She is an award-winning TV producer/director, a BAFTA Cymru-nominated screenwriter, and the producer and co-writer of the Oscar-entrant feature film, Branwen. Her debut short story collection A City Burning (Seren, 2020) was recently longlisted for the Edge Hill Prize 2021. Her debut poetry collection, Shoot, is under consideration with a major poetry publisher. Angela has just completed a book of prose and poetry in which, via a search for her 'erased' paternal grandfather and the history of her childhood home in east Belfast, she offers a rare perspective on this working-class heartland of the city. She is currently creating a poetry collection on the theme of Sanctuary in a ground-breaking collaboration with other poets.
"This event is free and will take place on Zoom. Please register via Eventbrite here https://www.eventbrite.co.uk/e/159967151055. Registration will close at 6:30pm, half an hour before the start of the event to ensure everyone receives the link. If you have any trouble accessing the event on the night please email [email protected].