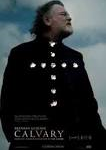 BBC Radio Wales Sunday 7th December
Unanimous praise for Calvary but disagreement over whether religion has 'moved to the periphery of Irish life'
Fun being among the reviewers but I found myself at odds with them on this point.
Far from religion being on the side-lines, this film presents it as being so close to Irish hearts that its betrayal by clerical abuse of children results in a seething anger against clerics and the Catholic Church. Religion has failed but faith, in this film, is precious.
My favourite film, Bresson's 'Diary of a Country Priest' is the model here. In both films a good priest is surrounded by embittered, suffering parishioners who taunt and confront him with the monstrosity and absurdity of suffering. There is plenty of jeopardy of the usual who-dunnit type but even more hangs on the risk that the priest will compromise his principles from sheer fellow-feeling.
A key role is that of the newly bereaved French wife whose clear-eyed acceptance of enormous loss proves a touchstone. Integrity, the coherence between what a person believes and what he or she does, is a major theme.
A great cast. Brendan Gleeson and his son, Domhnall are powerful in one of the many one-to-one encounters.
Why do we get angry at suffering as though it is something unexpected? That's a question I feel this film put in front of me.
iPlayer Radio: http://www.bbc.co.uk/programmes/b04snkt6