What a lovely bookshop Cardiff's  Shelf Life is. Small, but perfectly formed if what you're looking for are books that are radical.
What does 'radical' mean?
Owner, Rosie Smith favours stocking less-heard voices. She wants book-buyers to come across topics and people and situations that they may not have previously known about. She says:
"I want to engender solidarity between readers and the people they read about, and between communities. I stock the kind of books that can foster compassion. I hope they encourage a less individualistic approach to life. I'm a fan of collectivism."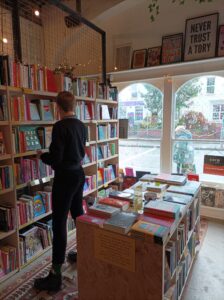 Since those are my ideals too I am very glad that Shelf Life now has my books
At Shelf Life you can find my poetry collection Sanctuary: There Must Be Somewhere https://bit.ly/3YgrL9N and  my short story collection A City Burning https://bit.ly/3iHHw9u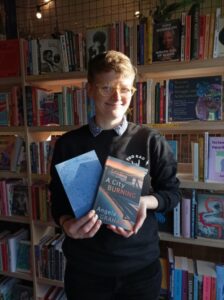 Rosie opened Shelf Life in August 2020. Before that she ran a pop-up and then moved to selling online, always with the emphasis on socially-conscious books. She has ambitions to branch out into facilitating greater engagement between her customers.
If you want to buy from a bookseller who knows her stock in detail because each book is carefully chosen , then this is the bookshop for you.
Shelf Life is on Cowbridge Road East. It's part of The Corp Market , acommunity hub which houses a variety of traders and services. See below