I like anything that delivers on its pitch and that was certainly the case with the Mairtín Crawford Award Workshop: Preparing Poetry For Submission, April15th at the Crescent Arts Centre, Belfast.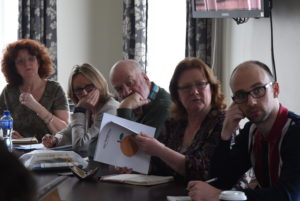 I signed up for:
Moyra Donaldson will lead an afternoon workshop for poets seeking advice, guidance and practical approaches to assembling and presenting poetry for submission.
The workshop will explore a range of approaches to preparing pamphlet length and full collections and one-off poems for submission to agents and publishers, literary magazines and competitions.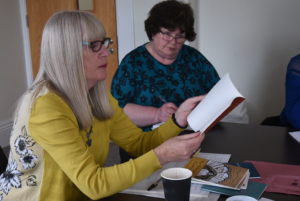 Poet, Moyra Donaldson, is head of the judging panel of this, the second Mairtín Crawford Poetry Award. It is open to poets working towards their first full collection. The winner will receive a six-month mentorship – a covetable prize indeed. There is also the opportunity to read at the Belfast Book Festival.
Submissions are open till midnight 1st May. Six to ten poems are invited.
I was immediately attracted to the workshop because of its practical slant which promised to cut to the chase on aspects of the business side of achieving publication. This was a welcome, constructive and gentle steer towards improved professional practice, nudging us all up a gear. It's a format that would bear repeating.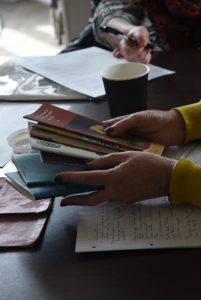 Moyra Donaldson kept a roomful of keen poets on track along a clear path dealing with the production of individual poems, through to pamphlets and collections.
Amongst the many topics dealt with were:
the process of submission and where to submit
lay-out
record-keeping
nurturing a reliable reader
curating a pamphlet or collection
building a portfolio
relating to editors
There was time for individuals to raise issues of particular interest. And, as a bonus, all attendees have received a free entry to the award process.
The other judges of the award are Paul Maddern and Matt Kirkham.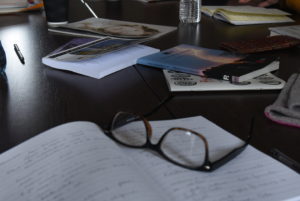 Moyra Donaldson advised:
"Send your best poems. They needn't be perfect poems. The judges are looking for talent and a seriousness of intent. Entering is a very good discipline for yourself. It's a good thing to just risk sending material in, in the sense of risking its exposure. All entries will be read by all three judges. Entries are anonymous."
The first Mairtin Crawford Short Story Award is running simultaneously.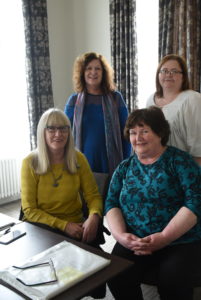 Photos: Angela Graham