The fourth research trip for my novel (6th – 17th April), coinciding with the 20th anniversary of the Good Friday Agreement, was necessarily a time of public reflection, assessment and forecasting about peace and conflict, in great depth and with many of the major actors back in the spotlight.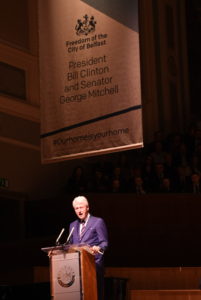 The peace experts, from all corners of the world, whom I was fortunate enough to hear, stressed the need for efforts at many levels of society if conflict is to be resolved. Progress at the one-to-one, neighbour-to-neighbour stage, they say, is essential for progress and – most elusive and crucial of all – on the inner 'platform', where we speak with ourselves. Whether that place is the head, heart or soul (all those terms were used) if the tune doesn't change in there then there is no movement to be hoped for.
So I want to begin not with the most high-profile event but with a gathering focused on the same themes but from that internal angle.
Abandoned: Not Forgotten? is the brainchild of artist and photographer, Lise McGreevy. As inspiration for a project promoting peace and cultural diversity she turned to Donegal, one of those parts of ancient Ulster which is in the Republic of Ireland; geographically 'north', politically 'south'; a place where Irish and Ulster Scots were, and are, both spoken.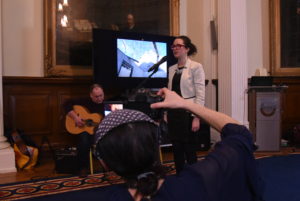 Lise photographed abandoned houses and cottages in Donegal and compiled an exhibition of prints. To say, 'roofless house' touches a chord, touches our need for rootedness. To see the knick-knacks of everyday life scattered over a cold hearth is to evoke a sense of a way of life left-behind. Curtains on a broken window demand that someone be looking out along the road, but the walls are crumbling. It's a place where life was. Can it live again? Should it?
Abandoned: Not Forgotten? asks us to reconsider what we may have jettisoned of a shared past and whether the residues of language and culture are in us living still. Can we recover any good? What should we remember? What should we reclaim? And to what uses should we put this salvage?
Lise tackles these questions not via debate but via art.
Certainly, the end she has in sight is peace. She embarked on a 3-year project, first involving three other artists and, in this second phase, drawing in others.
She has asked several artists to collaborate with her, using her photographs as a starting point. They address the question: The culture, heritage and language of our joint Irish and Ulster-Scots history: is it Abandoned: Forgotten?
Staging the artists' answer to this  question has resulted in a series of exhibitions and events in prestigious venues, including Stormont (see Lise's link above) and, on Friday 13th April, an entertaining evening, an evening of pleasure and fun, hosted at Belfast City Hall.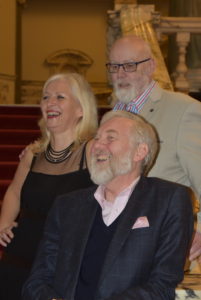 The programme was varied and excellent. Some contributions were specially composed; others renditions of classics.
Among the new contributions was The Celtic Voyage composed and played by flautist Marie-Thérèse Davis against a background of Lise's photographs. This followed the stages of an emigrant's journey, from the decision to leave, to the new life across the sea. A strikingly deft depiction, evocative, for me, of the emigrations of a century or more ago.
I very much enjoyed singer-songwriter, Sean McAuley's
Can't Ignore What's Mine, which skipped us over the years to 1991, from the point of view of one who stays 'behind' or – to put it another way – home. He doesn't join his friends who are 'off to Amerikay', as a folk song might have put it. It's not the commonest perspective among songs and it was good to hear it. Find it on The Long Stay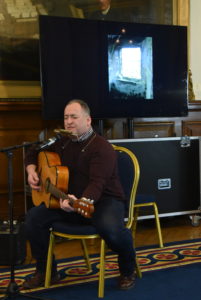 Sean explains, 'It's an anti-emigration song that reflects my experience of the influence to leave our country and chase my fortunes elsewhere. I had family in America and amongst my peers it was always the dream to go there and make it big. However… I couldn't turn away from my family at home.'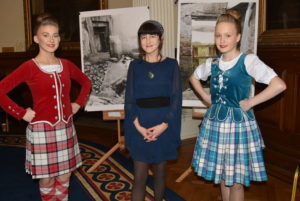 It was the first time I'd seen Scottish Highland Dancing up close. It's very light-footed, if these girls are anything to go by. But then they are the current Ulster Highland Dancing Champions: 16-year-old Rebekah Keery (Junior) and 12-year-old Leah McIlwrath (Juvenile) so we were being treated to the crème de la crème.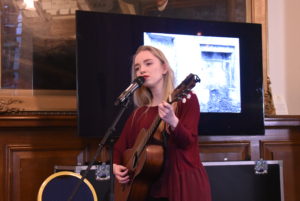 Lucy Bell is another young champion, the Pan Arts Young Singer-Songwriter of the Year, Northern Ireland. She gave us some of her own punchy compositions.
It was especially apt that on the same programme we heard one of the loveliest songs of the Irish folk canon, The Flower of Magherally-o from Andrea Begley, a beautifully pure and sure voice, serving the song to perfection.
As a writer, I was particularly interested in the poetry element. Jim Johnston explained to me how he did 'pre-writing'. He looked at 23 of Lise's images and took a word or phrase for each image, then examined how these related to one another and what meanings they gave rise to. 'A word is never an orphan,' he told me. 'It's always related to something else.' The story finds its way to us because, 'We are story-telling animals.'
Jim Johnston's poem:
Abandoned; Forgotten?
In the land of gnawed
lintels, door posts, thresholds,
abandoned – forgotten
Our Lady of the Shards
found solace in the empty hearth
of her Sacred Heart, shuttered and awry.
Tree thoughts overhead
betrayed by three plates, angles and vessels,
with the curtain lace unravelling light,
the stonework tumbledown
roofless – windowless, and under a shadow
of alternative doorways.
From a dark, dark window
the eye in the knothole reproaches
through glasses darkly that road that has passed us by
the road to no town,
where the menu for the last
supper is written on slate,
by the unlucky horseshoe.
Jim's poem was translated into Irish by Máirtín MacGabhann and read by Lucy Bell; and into Ulster Scots by Anne Smyth.
The translation of poetry offers a way into especially deep connection with the 'life' that's being explored. I don't at this point know how often this triple translation is attempted in Northern Ireland. It's not an easy ask because it exposes any gap between the translator and the originating poet's conceptions. For instance, that phrase 'the curtain lace unravelling light' is a challenge. A workshop on this translation would be really attractive.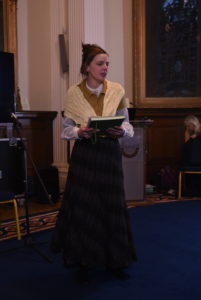 Victoria Gleason performed the English version.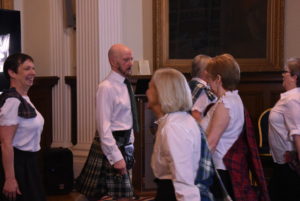 We ended the evening with a ceilidh, guided by members of the Royal Scottish Country Dance Society.
And – a wonderful bonus for me – among the Society's members was a man I hadn't seen for 45 years! It was such a gift to, not only see him, but dance with him and he has since sent me some photos from 1973, flared trousers and all. We were so cool! And boys wore purple head to toe.
Lise has ambitious plans for the project.
To coincide with the GFA anniversary month it has already been hosted at Parliament Buildings, Stormont and Belfast City Hall and is exhibited at Dublin council's HQ until the end of April.
Forthcoming tours:
Armagh City, Banbridge and Craigavon councils
The Market Place Theatre, Armagh in September and October
Antrim and Newtownabbey Councils in July this year and May 2019.
Lise is also liaising with Derry/Londonderry for a potential exhibition at the historic Guild Hall and with Strabane council.
"In addition to touring internally within NI" she says," my main aim for 2018 is to take Phase II to the 4 countries which help bring peace to our shores, during the 20th anniversary year of the Good Friday Agreement – Northern Ireland, Ireland, UK and the USA and also promote our joint Irish and Ulster Scots cultures locally and internationally."
She has New York on her horizon.
The road to peace is paved with stones of many sizes and shapes. Lise McGreevy's initiative is making its mark. Needed too is the analytical effort of academics who open up for us the historical context of language and history and remind us of the facts of cultural experience; the expertise of linguists; the drive of enthusiasts; the pragmatism of journalists and a lot of patience and sensitivity because when you touch someone's language and culture you put your finger on places that can be neuralgic as well as tender.
Lise's approach is flexible and open and fun. I wish her well.
(photos: Angela Graham)