A Taster here of my Short story 'The Road' featured in New Welsh Reader Summer Issue #117 alongside fiction by Joao Morais, Mihangel Morgan and Anna Vaught.  This is the opening story of my Collection 'A City Burning' for which I'm seeking a publisher.
Jon Gower has said of 'The Road',  "a fine tale, solar-plexus punching, vivid and filmic and puts the tragedy fully back into the term 'Troubles.'"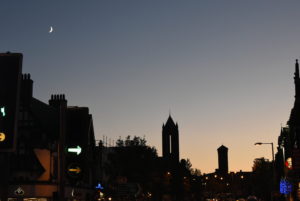 Synopsis  of  A City Burning  by  Gwen Lloyd Davies, Editor, New Welsh Review
24 stories.                 50,742 words
It was a very still day. I can only say as I remember and I remember how the air was on the verge of something. We stood under a dome of cloud, whitish, like a plaster ceiling. We stood with this vast lid above us. The railway tracks insisted on the distance, the far distance over the surface of Europe, the distance between them and us.
In a post-war European country, train tracks prolong the distance between over there where men fall and others flee, and here, where a woman welcomes home her mutilated soldier with tender acceptance. So exemplary is her love, this scene's witness sets herself to learn this way of thinking, as do the many witnesses in this collection. Others, meanwhile, are radicalised, and start to challenge and resist on either side of political divisions or the personal front of domestic tyranny.
Graham's telescoping perspective winds in and out throughout this collection – set in Ireland, Wales and Italy. This is especially true in 'The Road', set during the summer of 1969 in East Belfast, where a Catholic child in a Protestant community witnesses that, through a tunnel of darkness, 'something huge was burning'.
In these stories, many bearing witness to violence, injustice and cruelty, people face challenges to their vocation, their values, their sense of belonging, their art or their faith. These include a gay priest, an estranged husband, an actress adrift and a young woman catching the tail-end of heartless urban mayhem. Many of these characters, like Northern Ireland itself, have 'A talent for endurance, a sardonic patience, and a reverence for suffering as an act of war.'
With a virtuoso control of tone, in turns elegiac, comic, lyrical and philosophical, this collection explores conflicts between political allegiances; between autonomy and intimacy; emotional display and concealment; resistance versus acceptance. It examines power of all types, not least that which allows us, when necessary, to resist desire itself.