My review of Paul Murphy's autobiography appears in the Autumn/Winter edition of Current Affairs magazine the welsh agenda.
Baron Murphy of Torfaen is a Welshman with a particularly close connection to Northern Ireland.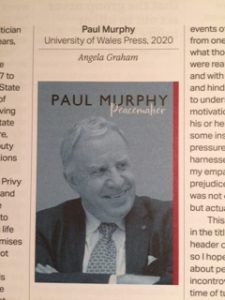 Paul Murphy: MP for Torfaen 1987 – 2015; twice Secretary of State for Wales; Secretary of State, and previously Minister of State for Political Development, for Northern Ireland ( in which period he was deputy to Mo Mowlam during the Good Friday Agreement negotiations); a Privy Councillor; a Cabinet Minister and the recipient of a Life Peerage.