All Things Considered –  9am on Sunday 8th December – reviews the year in Film. I had great fun doing this with Peter Francis, Warden of Gladstone's Library in Hawarden and musician and tech entrepreneur, Nigel Ipinson Fleming. Roy Jenkins steered our debate.

The Italian film Happy As Lazzaro (Lazzaro Felice) is top of my list. Thought-provoking and memorable, its young director Alice Rohrwacher shows tremendous confidence in pushing narrative across time and place in an examination of goodness and its exploitation. Executive Producer is Martin Scorsese and it's a must for any fan of Italian cinema.
We also considered Amazing Grace, a documentary about the recording of Aretha Franklin's classic album in January 1972, directed by Sydney Pollack.
Kenneth Branagh's All Is True,  about Shakespeare in retirement, is a film notable for high calibre performances from Branagh himself, Dame Judy Dench and Sir Ian McKellen. Scripted by Ben Elton.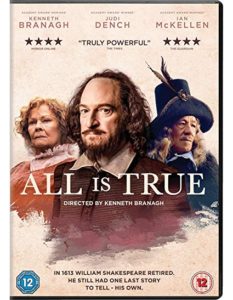 And there were more. And my favourite film of 2019? Listen in!