"onesto, bruciante, perspicace e molto, molto buono".
– La rivista New City su 'A City Burning" pubblicato da Seren Books
 Ambientate in Irlanda del Nord, Galles e Italia, le storie di A City Burning si muovono dalla fine della Seconda Guerra Mondiale all'era del Covid-19.
Una città brucia in una crisi – perché lo status quo è ormai al collasso e il cambiamento deve ancora arrivare. Ogni valore, relazione e credo è scosso e il futuro è messo in gioco.
Nelle ventisei storie di Una Città Brucia, bambini e adulti affrontano, tra le scottanti tragedie personali, momenti di potenziale trasformazione, seppur costosa. Sulla soglia del proprio futuro ognuno deve fare una scelta: come vivere in questo nuovo "adesso".
Nell'attesa del ritorno di demoralizzati prigionieri di guerra, a un italiano viene offerto di ricostruire il suo mondo in maniera scioccante; sulla costa di Antrim un uomo è spinto sul baratro dai demoni della sua famiglia nevrotica; nelle valli a sud del Galles, durante la pandemia, un assistente domiciliare si trova in prima linea nella lotta dei lavoratori. Un'adolescente scoraggiata da un futuro col Covid; una terrorista innamorata; un sacerdote vendicativo; un'attrice che interroga il suo ruolo per far luce sulla sua vita travagliata – i personaggi, colti nel punto di crisi, sono resi con una percezione acuta dell'ingiustizia e della brutalità.
Ma c'è anche lirismo, umorismo ironico e un deciso impegno con la lingua in sé – italiano, scozzese dell'Ulster, gallese.  Oltre a incontrare i protagonisti nei loro paesi, troviamo gli irlandesi in Italia, gli italiani in Galles, i gallesi nell' Irlanda del Nord.
Un senso cinematografico di messa a fuoco e di ambientazione fonda l'azione: una libreria senz'anima offre un incontro sensuale stimolato dai morti; due giovani preti si affrontano eroticamente in una cucina vaticana; la nemesi colpisce – dal cielo – in un corridoio di ospedale.
L'occhio della Graham per un dettaglio narrante e l'istinto per un silenzio che pesa stringono il lettore in storie che riecheggiano al di là delle loro situazioni.
Per copie di recensioni, servizi, eventi e interviste si prega di contattare:
Sarah Johnson • 01656 663018 • [email protected]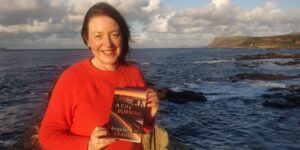 Angela Graham è originaria di Belfast. Prima di scrivere questa sua prima collezione è stata produttrice, regista televisiva e sceneggiatrice di lungometraggi in Galles. Ha realizzato più di 100 documentari e programmi d'attualità per la BBC, ITV, S4C e Channel 4, ed è stata produttrice di sviluppo per la serie storica della BBC The Story of Wales, vincitrice di due premi BAFTA-Cymru. Ha prodotto e co-scritto il lungometraggio del cinema gallese/irlandese Branwen (candidato all'Oscar nella categoria Lingue straniere e vincitore di premi internazionali) ed è stata sceneggiatrice di lungometraggi ambientati in Italia e Romania.
I racconti della Graham sono stati largamente pubblicati e apprezzati per la loro gestione virtuosa del tono e della voce. E' una scrittrice di lingua gallese e una poetessa pluripremiata.
Apprezzamenti per A City Burning
'Le storie seducono e intrigano… altamente raccomandato' – Graham Reid
'un impressionante caleidoscopio di paesaggi e linguaggi' – Angeline King
Apprezzamenti per i racconti brevi di Angela Graham:
'Colpisce al plesso solare, vivido e filmico' – Jon Gower
'Nelle sue mani il raccolto breve è una breve epopea di suspence e ribaltamento' – Niall Griffiths and Stevie Davies
'Vivido, commovente, profondo' – Literature Wales Bursary Panel
  9781781725917 • 21 Ottobre 2020 • Pbk • £9.99