Matthew M.C. Smith is an adventurous, and apparently indefatigable, poet and poetry impresario. It may be his gift for collaboration which enables him to be so productive.
It's so lovely to see my poem 'Thaw' here:  Deep Time Volume 2
This beautiful-to-handle, easy-on-the-eye, large-format book from Black Bough Poetry has been produced by a team and assembling a coherent team is a skill in itself. The members are:
" Welsh writer, Laura Wainwright, Louisiana's former Laureate, Jack Bedell, and Aotearoa's, Ankh Spice. The amazing illustrations are by Rebecca Wainwright, a Newport-born artist from Newport in Wales, now living in London. Music for this project is composed and curated by Brisbane-based Stuart Rawlinson."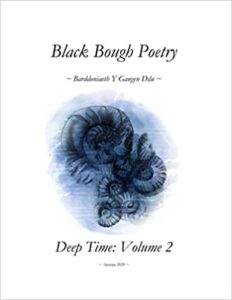 Deep Time volume 2, is Black Bough poetry's second print anthology. It is dedicated to the writer Robert Macfarlane, who wrote award-winning non-fiction work, Underland (2019).
Reviewer, WIlliam Dalrymple says in The Guardian of ​Underland:
the relationship between man and landscape, the instability of time and place, and perhaps above all, the fragility of all we are and all we create. These are concerns that run like dark seams of glittering ore throughout his writing, across several successive books.
The book " is dedicated to all things ancient, mythical, magical, geological, and archaeological. Poems time-travel, explore ancient land and seascapes and plummet deep into the earth. They record actual explorations and imaginative ones by the poets."
The Deep Time 2 Playlist showcases recordings of poets reading their work and there's music from Stuart Rawlinson.
Matthew generously mentored a number of poets last year and this inspired Northern irish poet, Glen Wilson (Winner of the Seamus Heaney Award for New Writing, 2017; author of An Experience on the Tongue, Doire Press) to do the same. After a call-out for submissions, Glen selected me to mentor for a year from September 2019 towards a first poetry collection. I sent off my collection, 'Shoot' to a publisher a couple of weeks ago. To commit to a selection at first felt like stepping off a cliff but settled into something more like putting my foot onto the first of a chain of stepping-stones towards better command of the craft.
Matthew's generosity bore fruit for me. I hope it burgeons for him and his collaborators many times over.
Cover Illustration by Rebecca Wainwright