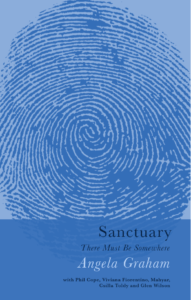 with Phil Cope, Viviana Fiorentino, Mahyar, Csilla Toldy and Glen Wilson
"A necessary and urgent response to the world's increasing crises…" – Robert Minhinnick
Sanctuary is – urgent. The pandemic has made people crave it; political crises are denying it to millions; the earth is no longer our haven. This theme has enormous traction at a time of existential fear − especially among the young − that nowhere is safe. Even our minds and our bodies are not refuges we can rely on. Truth itself is on shaky ground.
Sanctuary: There Must Be Somewhere addresses these critical situations from the inside. How we can save the earth, ourselves and others? How valid is the concept of a 'holy' place these days? Are any values still sacrosanct? We all deserve peace and security but can these be achieved without exploitation?
Belfast-born Angela Graham divides her time between Wales and Northern Ireland. Alongside her own work, she has designed this collection to embody the hosting, welcoming aspect of Sanctuary by inviting five other poets from Wales and Northern Ireland to contribute a poem each. In Wales, Phil Cope from the Garw Valley is an expert on the holy wells and shrines of the British Isles and Mahyar is an Iranian writer who has made a new home in Wales. In Northern Ireland, poet and novelist, Viviana Fiorentino is an economic migrant from Italy, working with migrants and prisoners of conscience, while film maker and poet, Csilla Toldy fled communist Hungary for a 'free' life in the West. The fifth poet, Glen Wilson (winner of the Seamus Heaney Award for New Writing), acted as mentor for Angela's work and contributes a poem on migration.
Praise for Sanctuary: There Must Be Somewhere
"In this wonderful collaborative collection there is work that variously provokes, soothes, challenges and affirms. Together, the poems provide a meditation on the meaning of 'sanctuary' at a time when the word's relevance to our lives feels increasingly urgent. A vital and illuminating publication." – Moyra Donaldson
"These poems are challenging, immediate, generous, uncompromising, urgent interventions in present-day affairs. The poems are tough but humane, sensitive but fearless, alarming but reassuring: this collection reminds us that at a time of trauma poetry is not optional – it is essential." – Dr Kevin De Ornellas, Lecturer in English, Ulster University
"The themes of evacuation, exile and alienation, dominate this impactful, emotionally-resonant, multicultural collection, with poems that convey longing for home, refuge, connection and personal fulfilment – "Rehearse your exit strategy/ – hopeless,/ yes, unless/ Some god would give you wings – / and never tell a soul about your study of terrain, / of martyrdom, of dying well". Sanctuary conveys the "visions and visitations" of a group of writers in this finely curated, relevant collection.' – Dr Matthew M. C. Smith, writer and editor of Black Bough Poetry.  
"Am  gyhoeddiad hollbwysig yn ein dyddiau ni. Mae e hefyd yn anffodus o amserol. Anffodus am mai anffodusion sy'n ceisio ffoi o'u mangre a cheisio  lloches, seintwar, noddfa, neu encil. A hynny am i'w mangre  droi'n fan sy'n llawn angau.  Mae  pob un yn haeddu lle,  ymhell o'i hunlle.
An urgent publication in times like these. Unfortunately, it is also urgent because sanctuary becomes a necessity for those who have to flee from their dwelling place. Seeking refuge, asylum and shelter from the fragility of  their homeland is indeed  their last hope  of survival.  Never was there more of a need — a need for the grace and goodness of strangers…" – Professor Emerita Menna Elfyn   
George Szirtes:
"This is one of those intense sanctuary moments in history. We have had Syria, we have had Afghanistan and now we have Ukraine. We are, in any case, in an epoch of migration and may well be in for more as climate change intensifies.
My own family were refugees from Hungary in 1956. They set out for Australia by way of Austria (on foot) and England (by plane), but Australia said no so we remained in England. England proved to be the necessary sanctuary. My parents felt safe and free here.
Sanctuary is primarily physical but it is more than that. It offers a spiritual place of safety too. It is a token of generosity from the giver and a source of inner comfort for the receiver. Beyond that, the experience depends on much else in the long run but that first act is invaluable and restorative.
In this book, the poet Angela Graham has generously invited Italian-born poet and novelist, Viviana Fiorentino; the Welsh writer, Phil Cope; the Hungarian- born poet and translator Csilla Toldy; Irish poet Glen Wilson; and Mahyar an Iranian poet living in Wales to offer a poem each on the theme of Sanctuary.
The collection is full of moving, serious poems and individual voices. This too is sanctuary."