I had never been to Sentry Hill, near Larne, before going there to be interviewed by Liam Logan for his series on Ulster-Scots writing for Belfast cable channel Northern Visions (NVTV).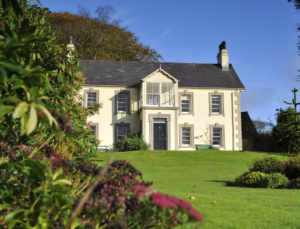 The house was built in 1835 , improved in the 1880s, and owned by the McKinney family until 1996.  William Fee McKinney (born 1832) collected farm implements and objects from rural life. The house's interior and contents survive remarkably intact and give a good impression of a farm interior from the earlier twentieth century. It is run by Antrim and Newtownabbey Borough Council.
Liam interviewed me in a small room where many guns and weapons (are those assegais on the ceiling?) are on display, alongside stuffed birds andmaybe an armadillo!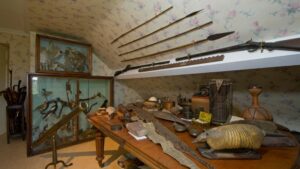 Liam asked me how I came to write in Ulster-Scots. Both my grandparents on my father's side came from communities with this speech and it has remained in my inner ear, as it were. I have had a lot of help in foregrounding it from people such as Liam and from the indispensable Ulster-Scots Grammar by Philip Robinson; The Hamely Tongue by the late James Fenton (both Ullans Press) and Ulster-Scots Writers' Guide (Ulster-Scots Academy Press) and comments from the Ulster-Scots Language Society.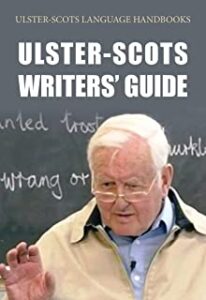 I read some of my poems for the camera. I find it a great pleasure to work in Ulster-Scots and would like to do more.
Other  contemporary writers featured in the series are Alan Millar, Angeline King and Gary Morgan. All four of us are featured in the booklet produced as a follow-up to the Linen Hall LIbrary's inaugural Ulster-Scots Writing Competition 2021 (supported by the Ulster-Scots Agency) in which we were all prize-winners.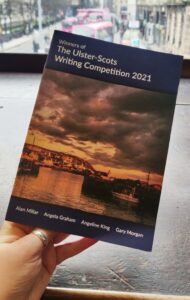 Dr Pauline Holland, co-author of a biogrpahy of early eighteenth century poet, Sarah Leech,  will also appear and Barbara Gray, singer and lyricist. Academics Dr Ivan Herbison and Dr Frank Ferguson are on the roster too.
The programmes will be screened in the autumn.