I'm catching up with a very busy July. We had a great launch of Sanctuary: There Must Be Somewhere supported by  Seren Books and CABAN bookshop in Cardiff's Pontcanna.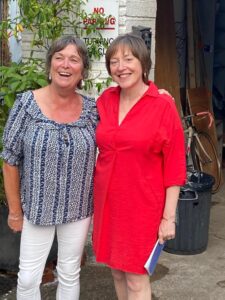 Bookshop owner, Elin Edwards introduced me to the intriguing Dance Studio in King's Road Yard. One whole wall is mirror, or gold curtaining, if you prefer that. Very atmospheric.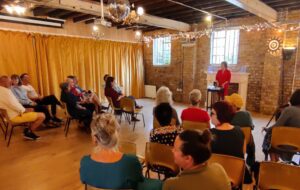 The audience had great questions after the reading and there was a sense of dialogue because of the contributions people made, bringing their own experience or reflections to the issues that included war, migration, the role of women in conflict, the fate of the environment and the creation of peace and security.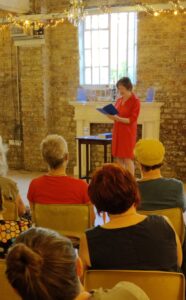 I felt very fortunate to have such an attentive and engaged audience who allowed me to feel that the poems 'worked' and communicated well.