WHAT IS SANCTUARY – AND HOW CAN IT BE LIVED?
What rises in our imagination? The holy or the helpless; the planet we live on together or the contested part of it that is the goal of desperate migrants? Is sanctuary a place, a person or a state of mind? Sanctuary is incontestably a key issue of our time and a major driver of politics. These Welsh writers create together a new stage in our poetic engagement with sanctuary.
NODDFA − A SUT MAE BYW YNDDI?
Beth sy'n codi yn ein dychymyg? Y sanctaidd neu'r digymorth; y blaned yr ydym yn byw arni gyda'n gilydd neu'r rhan ddadleuol ohoni sef nod mudwyr? Ai lle, unigolyn neu ffordd o feddwl yw noddfa? Heb os nac oni bai, noddfa yw broblem ein cyfnod ac yn bwnc llosg mewn gwleidyddiaeth. Dyma'r ysgrifenwyr hyn o Gymru yn mynd ati gyda'i gilydd i greu cam newydd yn ein hymgysylltiad barddonol â'r testun noddfa.
The panel members in this bilingual (Welsh/English) session were former National Poet of Wales, Gwyneth Lewis; co-architect of the Nation of Sanctuary movement, Rev Aled Edwards; novelist of migration and social activist, Dylan Moore and Joseph Gnagbo, a former refugee from the Ivory Coast now living in Wales.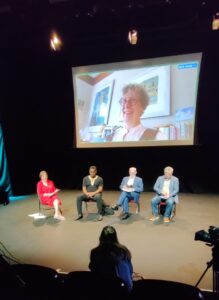 It was a privilege to chair this fascinating sharing of experience and insight into the the topic of sanctuary. Beforehand, the panellists considered these questions in the context of the festival's overall theme: Wellness.
What role does sanctuary play in wellness?
How has the meaning of 'sanctuary' shifted in our time? And how might we respond?
If ours is an age of sanctuary (and threat), how can poetry play its part? Is it enough for poetry to be itself a kind of sanctuary (an inviolate sanctum) or does it have a responsibility to directly call to account the threats to sanctuary?
We also circulated, amongst ourselves, some of our work on the theme.
I felt it was a particularly frank and generous sharing of personal experience of several aspects of sanctuary and the effort to bring these into contact with poetry. Perhaps that was why the contributions were repeatedly moving.
I was pleased to translate Joseph Gnagbo's rap song 'Attention! Vigilance!', a plea for political awareness. Joseph's performance, in French, of his work was a moving encounter with the harsh and costly reality of challenging power.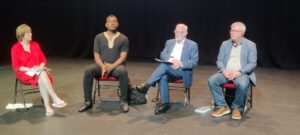 Gwyneth Lewis shared two new poems, in their Welsh and English versions. In one, sanctuary, under the siege of prolonged painful illness, is a possibility but only just and in a second, writing poetry is experienced as an impossible burden at one time and at another something that, no matter how laborious or intermittent, gets something said, something brought out from inside and expressed so that it can be seen.
Aled Edwards read a moving poem about unexpected common ground between children of Afghanistan, newly come to live in Wales, and Welsh veterans of the Falklands war.  In different scenarios both groups run their fingers over symbolic shapes – the lettering on a memorial and the logo of the Urdd (Wales's largest youth organisation). What they have in common is a translating of image into remembrance, either names or faces. The children are confident they can learn Welsh while rembering where they have come from.
Dylan Moore read two poems about the deep linkage between ostensibly different people, through DNA – the discovery that one has roots in another continent and what this might mean for identity.
I read from my collection Sanctuary: There Must Be Somewhere. I chose poems about understanding and mis-understanding what a sanctuary is in religious terms.
'People seeking sanctuary are welcome in Wales.' says the Welsh government website. The Welsh government has committed to making Wales the world's first Nation of Sanctuary.  Joseph Gnagbo expressed his appreciation of the difference in attitude, as he sees it, between the Welsh and Westminster governments. He is interviewed after the event by Alun Gibbard.
From our exchanges it seems that everyone needs sanctuary, not only those seeking asylum. Unless we have a 'safe place' where we feel recognised and valued, our lives are vulnerable and provisional. Sanctuary – how can it be lived? was a question we started with. It points to a broad vision of sanctuary's potential as being not only a place  but a potential attitude to life. If there can be a Nation of Sanctuary then there must be a People of Sanctuary and persons of sanctuary – people who are willing to let others in.
Poetry creates a shared space between poet and reader or listener. It is not intrinsically a safe place, in my opinion. It has the potential to be damaging or exploitative. But poetry can choose to be a kind of sanctuary where it is safe to express anything, even the most challenging things; safe because we stand in the truth, trying to share it.
Many Rivers To Cross by Dylan Moore is published by Three Imposters Press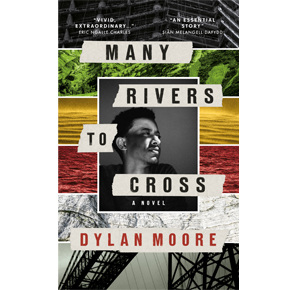 Read about Gwyneth Lewis's work http://www.gwynethlewis.com/
Gwyneth is pictured in front of the facade of Cardiff's Millennium Centre. She wrote the words on its frontage. The Welsh says: Creu Gwir Fel Gwydyr O Ffwrnais Awen / Creating Truth Like Glass From Inspiration's Furnace.
http://www.gwynethlewis.com/biog_millenniumcentre.shtml
Thanks to Rhian Edwards and Zoë Brigley, Poetry Editors, for the opportunity to hold the event. And to Seren Books, publishers of my poetry collection, Sanctuary: There Must Be Somewhere And to collaborating poets, Phil Cope, Mahyar, Csilla Toldy, Viviana Fiorentino and Glen Wilson.