It was a pleasure to read at the launch of FREE VERSE an anthology of poetry to mark the tercentenary of the birth of Wales's most influential philosopher and political theorist.
The launch took place at the Pontycymmer studio of artist, Kevin Sinnott whose work captures the vertiginous geography of the valleys. His studio window proudly proclaims his place in London, New Your and Pontycymmer. The local streets rise up from the narrow main road at the steepest of gradients and this sense of teetering on the edge of some precipitous fall or plunge gies a tremendous energy to his paintings. In this one below, a couple hover over valley streets.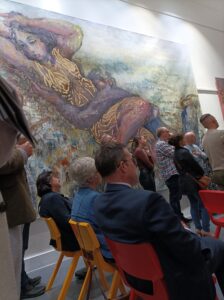 Kevin Sinnott's wonderful painting of Richard Price in the context of his times and those he influenced features as the anthology's cover.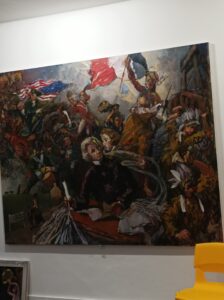 I chose to write about an incident in Richard Price's life whose spontaneity shows how deeply rooted was his fellow-feeling for his contemporaries. He didn't hesitate to risk his own interests to help a stranger. He as an intellectual who had his feet on the ground.
Here's the background to this anthology, edited by Prof. Kevin Mills and Prof Damian Walford Davies:
"2023 marks the tercentenary of the birth of Dr Richard Price (1723−91), one of the most undervalued architects of the modern world. In political, philosophical and theological works he defined and advocated for many of the political and intellectual freedoms we take for granted. In our increasingly illiberal times, recovering his humane and enlightened work is an imperative.
"The poems included in this exploratory volume go some way towards engaging with that urgent task. In a rich variety of modes and styles, they both scrutinise and channel Price's legacy − philosophical, political, theological, actuarial and moral − testing the contemporary relevance of his contribution just as they measure contemporary social and political mores against his example.
"Prompted by Price, we are encouraged to consider the value of human life; the worth of the individual; the lessons of history; the operations of power; the force of language; the nature of testimony; the implications of artificial intelligence; and the horizon of human possibility.
"Firmly rooted in Price's intellectual legacy, these poems remind us that our cherished freedoms are fragile and must not be taken for granted. Percy Bysshe Shelley (1792−1822) famously called poets 'the unacknowledged legislators of the world'; the epithet applies equally to Richard Price, and here, for the first time, contemporary poets join their voices with his in seeking out, and giving memorable expression to, liberal values. The volume's Introduction assesses Price's impact and reputation in his own day, identifying him as a necessary voice in the work of agitating for an equitable and sustainable future in a warring and environmentally degraded world."
Contributors: Abeer Ameer, Zoë Brigley, Phil Cope, Mari Ellis Dunning, Kristian Evans, Angela Graham, Rae Howells, Mab Jones, Richard Marggraf Turley, Kevin Mills, Robert Minhinnick, Taz Rahman, Gerry Ray, Tracey Rhys, Damian Walford Davies, Hilary Watson.