"Here's a man who plays hide and seek with the secret police and cuts his prison cell bars to escape as he faces the gallows", says Guto Harri in this 60-minute documentary about St John Roberts (repeated on Sunday, 3rd April at 10pm on S4C with English sub-titles). "He acts more like James Bond than a saint. The issues underlying the history are echoed today, dealing as they do with someone considered to be a religious extremist, living abroad and considered a threat to the very fabric of the state."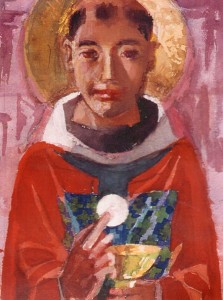 Guto goes beyond the usual remit of a presenter in taking on several roles in this programme: as the  current affairs expert and politico that he is in real life (he was Communications Director for London Mayor,  Boris Johnson when the programme was recorded, then Director Communications at News UK and now Managing Director External Communications at Liberty Global); as both John Roberts himself – voicing the words recorded in a London court 400 years earlier when Roberts stood trial for treason – and as the judge who sentenced him, and ultimately as his more intimate self: a Catholic Welsh-speaking Welshman, like John Roberts.
John Roberts came from an influential Meirionnydd family and his parents hoped that he would follow a career in law in London but he turned his back on his comfortable life as a student and  embraced the Catholic faith of his childhood when allegiance to Rome and the Pope was considered treason under the reigns of Elizabeth I and James I. He became not only a priest but a Benedictine monk, entering and leaving England and Wales when Catholic clergy risked death.
He was arrested and jailed repeatedly, having been betrayed by Catholics who were spies and double agents for the English Crown. One of his most determined opponents was a fellow Meirionethshire man. But he also succeeded in escaping several times by using his contacts and ingenuity.
John Roberts was finally caught, found guilty of treason and executed –  or martyred, depending on one's point of view – in December 1610. He was canonized in 1970. At his 400th anniversary Welsh Catholics, especially those from his home area, found a fresh appreciation of this young man who never lost touch with his roots. He was baptised in St Madryn's, the local church and his family property is still in use.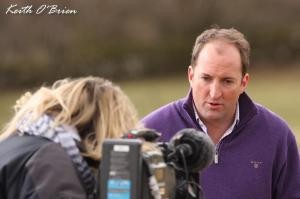 His story takes us from Trawsfynydd to Oxford where he was a law student at St John's College, to London's Inns of Court, to France and Spain where he trained in Valladolid for the priesthood. The town's impressive and emotional ritual of Semana Santa (Holy Week) is little changed over the centuries.
It's a fascinating tale of personal conviction conflicting with political realities. Guto concludes  with a reflection on martyrdom, that, unlike other types of celebrity, the martyr is not alive to enjoy his fame. "We're left asking a fundamental question. Is there anything in life worth dying for? If there isn't, what is the value of life itself?'
As producer and scriptwriter, I authored a  study of the production of the programme (2010) and the challenges of bringing this kind of history to the screen –  and this topic, for a particular modern audience for many of whom martyrdom has negative connotations – for the Welsh Journal of Religious History, Bangor University:  Martyrdom on Television: Designing a Documentary, Merthyr Meirionnydd, 2014.