Three screenwriters and two graphic designers got to grips with the principles of pitching in my Pitch Your Ideas workshop for CULT Cymru (Creative Unions Learning Together) on December 1st.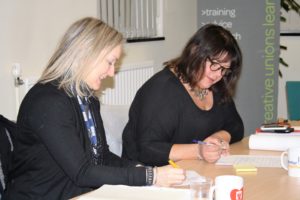 BBC Graphic Designers, Sophie Mutton and Louise Hillman polished up presentations based on their impressive art work. Creative duo Brennig Hayden and Kodjo Tsakpo are developing a complex and exciting drama series – medical with an intriguing critique of our post-truth society. Tara James has a political drama series ar y gweill, as the Welsh say (on the knitting needles) that combines apocalypse and real politik in contemporary Britain.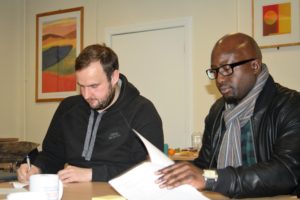 Feedback was very positive, including:
The course objectives were met – and then some – in a friendly sociable environment.  Completely happy with the day.
An engaged & experienced tutor.  Useful to learn and understand more about pitching.
 A fantastic, patient, constructive tutor.  Not afraid to point out negatives as well as positives but in a way that encouraged improvement, trust, and belief in the advice offered.  Very articulate & knowledgeable. 
(This experience) encourages me to sign-up to other courses, as all courses taken so far have exceeded expectation. 
Participants leave with a 35-page booklet on pitching techniques. Following input on pitching theory, practical exercises and one-to-one advice, participants hone  a verbal pitch. Everyone has at least two opportunities to deliver their pitch and receive feedback.
It was a pleasure to work with people so energised by their commitment to their projects.