I was delighted to be invited by Alan Roderick to read at The Murenger pub in Newport's High Street.  The name is memorable.  The original murenger collected taxes that maintained the city's defences in the medieval period. This monthly gathering is one of the most popular gigs for writers in south Wales and, of course, to add to its fame there is Jon Gower's short story collection, The Murenger . 
It is wonderful to be among people who really love writing. There's no mistaking the genuine commitment to the written word. In the Open Mic session we heard from regulars and a newcomer. The audience was attentive and responsive. and Alan Roderick is a generous and arm host. He gave me a copy of his poetry colleciton, 'After You'd Gone'. At the station on my way home, I was engrossed in it and missed my train! Apart from that, what more could a writer want?

The sessions at The Murenger raise funds for local arts centre Cwtsh.  This has its origins in a campaign to re-open the former Stow Hill library after Newport City Council closed it in 2013.  The centre is now a space for exhibitions, learning, arts and community activities. It takes a lot of commitment to keep a project like this going. I am the 85th writer to appear at The Murenger. What great evidence of a true belief in the importance of the arts and of community-building.
I read from my poetry collection Sanctuary: There Must Be Somewhere.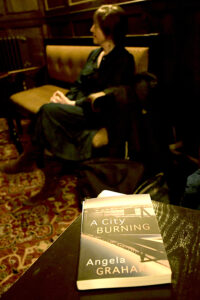 And from my short story collection A City Burning.
It was a very nice surprise to meet the sister of my writer friend in Northern Ireland, Adeline Henry. The world is small sometimes in a good way and this brought Northern Ireland to me.
The next writer will be Taz Rahman on 15th March at 8pm. His debut collection of poetry (working title) 'Animal Wall' will be published next year by Seren Books. Be there if you can because you're bound to have a great night.
And it was lovely to meet photographer John Briggs again. John did a photoshoot with me for a collection of essays published by the Institute of Welsh Affairs ,
My thanks to him for photos of the Murenger event.